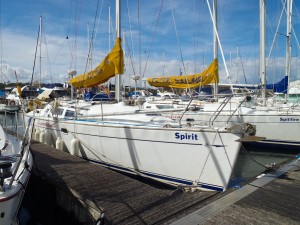 I didn't know it was possible to have such good fun on the river Medway !
Leaving Chatham Marina on board Spirit, one of Elite Sailing's Jeanneau Sun Odyssey 35, we headed towards Garrison Point, off Sheerness. For Becky and Elaine, it was a discovery weekend while for experienced sailor Keith, it was more like a refresher trip. For me, it was the start of the dayskipper practical course.
After a slow run downriver, we practised changing headsails, tacking and gybeing. The weather on the saturday was… well… interesting. We were incredibly lucky not to get soacked.
We spent the night moored at Queensborough and headed towards Wade on Sunday morning before sailing close-hauled back up the Medway.
A brilliant weekend !