Sport Diver, 2004
2 hours after leaving Bali's Denpasar Airport, the sense of privilege grew stronger as the Pelita Fokker 50 circled the island of Tomia, moments before landing. Apart from the Balinese cook, the only passengers on board were 12 guests booked for 10 days of unlimited diving at the remote Wakatobi Diving Resort. On the ground, we were greeted by excited kids. Most of them had never seen an aeroplane until just over 2 years ago, when the resort owners decided to build an airstrip to ferry divers back and forth. In the old days, the only way to get to the Island from Bali was by a 2-day boat trek. For those wishing to get away from overcrowded dive sites, it was heaven. One couldn't get much further away from civilisation. Nowadays, thanks to the air charter, you can still enjoy the remoteness while "limiting" your travel time.
Don't try to find Wakatobi on any map. Situated on an island called Tolandono in the Tukang Besi archipelago, the resort name is a combination of the surrounding islands : Wangi Wangi, Kaledupa, Tomia and Binongko. Still none the wiser? You will find these islands about 100 miles south-east of Sulawesi.
Various dive magazines across the world have claimed that Wakatobi had the best house reef in the world. This belief is shared by Steffen Rashack, the resort manager. "What makes Wakatobi so unique is the incredible biodiversity you can find here." Wakatobi's photo-pro Steve Fish agrees: "After a full year of shooting at Sipadan and a full year at Sangalaki, I arrived at Wakatobi with 3,000 images in my keeper database. It took my just 31 dives at Wakatobi to add another 1000 images to the database". Even my fellow countryman the late Jacques Cousteau declared the Tukang Besi Islands as "probably zee finest diving site in ze world."
A couple of hours after setting foot on the island and it was time to check if Wakatobi's claims of fame were founded. "I don't care who you are, Mr Cousteau. Everybody has to do a check dive !" the old joke used to say. Once we'd demonstrated our ability to clear a mask and perform an alternate air source ascent, we were free to dive in groups, in buddy pairs or even solo. 3 dives a day are guided, usually organised on neighbouring reefs. Guests are also welcome to dive as often and for as long as they wish, 24 hours a day on the house reef. Personally, I gave the 2am night dive a miss! The only limits are a 70 to 90 minutes maximum bottom time (unless you dive the house reef where you can stay in the water for as long as you want) and compulsory 1-hour minimum surface interval between dives.. The Indonesian crew are constantly keeping a watchful eye on divers and will send a speedboat to pick you up wherever you surface. They will also be happy to carry your camera and dive gear for you. Hang-on, this was supposed to be remote location diving, not a 5* PADI Dive Resort! Nitrox is not yet available, although there are plans to install a membrane compressor on the resort. The only oxygen available is kept for emergencies. This said, don't even think about pushing the limits as the nearest chamber is a few days away by boat.
Don't go to Wakatobi to see big stuff, although a hammerhead, a couple of eagle rays and the occasional tuna were spotted during our stay. The place is more like a macro-photographer's paradise. There is no contest as to who the stars of the show are: the pygmy seahorses. A bit of advice though : bring a magnifier! The "big" pygmies are about the size of your fingernail. Barely 15 yards from the end of the jetty, at a depth of 20m, a small muricella fan was home to a couple of hippocampus bargibanti, the "giants" in the pygmy seahorse family. Perfectly camouflaged in their white with red tubercles outfits, they dangled from the fan, holding-on by their tail, occasionally jumping from one branch to the next. It takes a trained eye to spot them. Kiwi critter-maestro and seahorse fan (no pun intended) John Keoghan taught us to look for their eyes and their moving gills to find them. "Don't shine your torch on the fan or they will look away and be even more difficult to spot". Barely ten yards away, another fan hosted a family of "plucked chicken" pygmy seahorses whose colour blended perfectly with the orange fan.
To most, it must seem crazy to fly half-way around the planet on the off-chance to see critters the size of a peanut. I understand why people would travel to Ningaloo to see the whale sharks or to the Galapagòs for the schooling hammerheads. I can sympathise with anyone flying to Scotland for a chance to swim alongide Nessie but what about pygmy seahorses ? This was a popular discussion subject, in the evening as we sipped our Bintang beers, watching the sunset. If anyone out there is writing a thesis on the philosophy of diving, this will undoubtedly be a fascinating subject.
No less than 4 different species of "pygmies" can be found in Wakatobi. The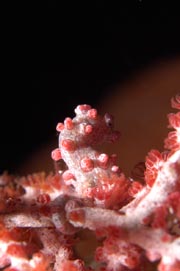 smallest one, hippocampus denise was discovered only a few months ago and named after American underwater photographer Denise Nielsen Tackett in recognition for her work on pygmy seahorses (See July edition of Sport Diver). Jane and I met Denise and her husband Larry in Komodo last year. The lucky couple now spend several months diving around Indonesia every year. Coincidentally, we bumped into them again on the airstrip at Wakatobi. Small world ! "I felt extremely honoured to have my name given to a new species" commented Denise. She and Larry were looking forward to 3 weeks of diving in paradise just as we were heading back to Britain.
Life as a pygmy seahorse must be difficult in Wakatobi, constantly disturbed by paparazzi divers. Imagine being constantly harassed by people flashing zillions of watts worth of light in your face day in, day out. You could see they were used to visiting photographers as they turned their heads away and laughed at you every time you tried to frame them in your viewfinder. It took several dives to secure one half-decent shot ! I must apologise unreservedly to the hippocampus family on behalf of the photographus subaquam gang for our appalling behaviour. And while I'm at it, apologies to the leaf-fish, frog fish and ghost pipe fish too. But they're all just so cute!
With over 30 dive sites to choose from, the diving possibilities are endless. 6 different sites can be accessed just on the house reef, either directly from the beach, on by speedboat. Pick your entry point, choose your depth and off you go. Some Wakatobi guests have been known to dive exclusively on the house reef. The resident marine life tends to be very sedentary and the dive guides know where to find this and that, so if your interest revolves around a particular subject, you can easily concentrate on it. You want to see the jawfish ? No problem. Jump in by the big tree just before the former chef's bungalow down there, drop to 27m and swim with the reef to your left. When you reach the cave, you'll see 2 of them. See you after the dive!
To discover what Wakatobi had on offer beyond the house reef, we hopped on the Wakatobi IV every morning for 2 dives on the surrounding reefs. Reaching the furthest site, Blade, took about 60 minutes. This chain of pinnacles rising from 25 to 5m offered some superb wide-angle photographic opportunities. Successions of gorgonian fans entwined with barrel sponges and soft corals created a most dramatic scenery. Unfortunately for us, the visibility at Blade wasn't at its best to fully appreciate the sharp sawtooth outline of the reef. I will remember Blade more for its critters, after a magic encounter with a pair of ornate ghost pipe fishes playing hide and seek in a yellow crinoid. One of the most popular sites was Roma where a vast expanse of pristine staghorn coral was home to quite a number of scorpionfishes. At Roma, we were also rewarded with leaf fish, ribbon eels, anemone shrimps and even a very tidy mantis shrimp, too busy arranging his patio to take any notice of the visiting divers.
As holiday destinations go, Wakatobi is still in its infancy. It all started in 1994, when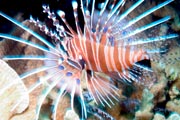 Swiss founder Lorenz Mäder received the support of both Tolandono villagers and the son of the last Sultan of Tomia to build the resort. His aim was to offer a "unique combination of topside island serenity and a spectacular housereef " while making a contribution to marine conservation. Built by local craftsmen using exclusively hand tools, the resort respects Indonesian architecture. Guests can be accommodated in either grand bungalows with en-suite facilities or in guestrooms on the longhouse's first floor. We were struck by the bungalow's level of comfort, despite the absence of air-conditioning. Lying on the king-size bed, protected by the giant mosquito net and watching the colonial-styled ceiling fan while listening to the waves crashing barely 10 yards outside our front porch outside was out of this world! 6 guest bungalows are currently available and 2 more will be ready by September 2003. They offer a choice of Queen-size double or single beds. If required by families, the bungalows can even accommodate an extra single.
Life on land usually revolved around the longhouse. It was our living room, dining room and even camera room. We (sad anoraks) were very excited by the idea of a Photo and Video Center on the resort with video editing and work stations, as advertised on the Wakatobi website. However, the centre was still packed in suitcases ! The building was under construction but should be operational in the next few months. Still, E6 processing was available at $10 a roll and Steve Fish was always available to try and help with any photo and video matters, even servicing a flooded Nikonos V on site for an unfortunate guest.
Night dives were particularly stunning. As the sun set, we would slip in the water to find sea pens with their tiny porcelain crabs, stunning spiny lobsters coming out of their hiding holes or beautiful red xeno crabs on soft corals. I am still kicking myself for missing an encounter with Steffan Jr, the red and white frogfish.
Is Wakatobi making a contribution to marine conservation? In order to offer pristine diving and an abundance of fish, the management team negotiated fishing restrictions with the local population with whom they entertain a very close relationship. A financial assistance is offered to keep the nets away from the dive sites. The idea of this reef lease contract is supposed to be a win-win situation: good diving for the guests together with some level of fish stock management. Fish are able to reproduce and grow in the reserve and then move to the fishing zone. To enforce this, the resort went as far as employing local rangers to patrol the zones. Unfortunately, we regularly saw fishing boats in the reserve. The resort staff reckon that the situation is worsening to a point where the fishing restriction contract will probably have to be renegotiated. More worryingly, we also heard explosions while underwater on at least two occasions. Even though dynamite fishing is banned in the region, the practice seems to be fairly common. Dynamite and fishing traps have a devastating effect on the reef. The diving people have tried to influence the local fishermen, but it is a long and tedious process. "Over the years, we have seen a decline in fish population on a number of sites. People fish in the same place every day and the stock doesn't get renewed", admits Rashack, although the situation is still very localised.
We left Wakatobi with mixed emotions. Having flown from a country where decline in fish populations was very much on the agenda, we certainly had found an underwater dreamland in the Tukang Besi. But with a local economy depending so much on the sea and where generations of fishermen have been allowed to trawl wherever they obtained the best yields, are the concepts of marine reserve and environment protection a mere illusion?