Thomas was introduced to the water when he was just a few months old. Thanks to Zoe Henderson at Bubbles Swim School, he feels completely at ease in the pool. So we organised a shoot on 12 July to get a few images of him underwater and give me a chance to practice taking pictures of swimming babies.
Find a backdrop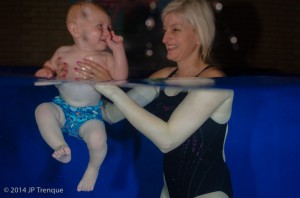 I did not want to see pool tiles on the photos. After researching on various online forums, I came across a post that suggested using a pond liner as a backdrop. I found the website for Fawcetts Liners and called the company to explain what I was after and discuss the unusual way I was planning to use their product. The lady I spoke to could not have been more helpful. Some of the liners would be too shiny but the reckoned their "Pond Liner No 10" would not bounce the flash too much. She offered to send me free samples of the various materials and colours so that I could make a more informed choice. In the end, I chose a 5m x 3m cut of the dark blue Liner No 10, which I think worked quite well.
Weights
In the pool, I weighed the liner with diving weights. A lot of weights. The material moves quite a lot when the models walk on it, but this can crate a wave effect which I quite like in the pictures.  In the future, I might make use some liner material to make weight pockets. Hopefully, this will stop me having to remove the bright yellow weights in post production.
Equipment
I used my D7000 with a Nikkor 20mm lens in the Nauticam housing. To light the scene, I used twin strobes (Inon Z240). In the future, I might try to position the strobes further apart.I set the exposure to
manual, on ISO 200 starting at f/8.0 and 1/125sec. This seemed to work OK. I wanted to openthe aperture slightly more, to blur the background, but was worried about reducing the depth of field too much. f/8.0 would give me some margin for error on the focus.
Talking about focus, I experimented with a few modes but went back to the gold old spot focus.
The shoot itself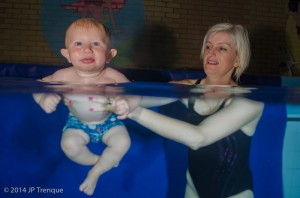 Although Thomas is completely at ease when we dunk him underwater during classes, the photoshoot dunks required more time underwater and
he soon had enough of it.
So timing was of the essence ! Zoe would give me a few seconds to get settled underwater then I could hear her "Thomas, Ready, Go" commands. She would them push him away from her so that I could get a picture on his own. In most cases, I still had to cut Zoe in post-production so I'll need to practise the angle a bit more !
So here's my first attempt at swimming babies !