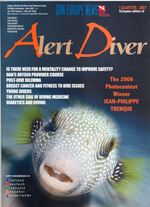 Exciting news! My pufferfish picture will feature on the DAN Europe Membership card. It also made the front cover of the Mag!
I have been a member of DAN (Divers Alert Network) for a number of years now and would not want to travel overseas or even dive in home waters without knowing that they're always available, should I ever need their services after a diving accident.
They offer reasonably priced insurance coverwhich extends to non-diving activity and I cannot recommend them highly enough.